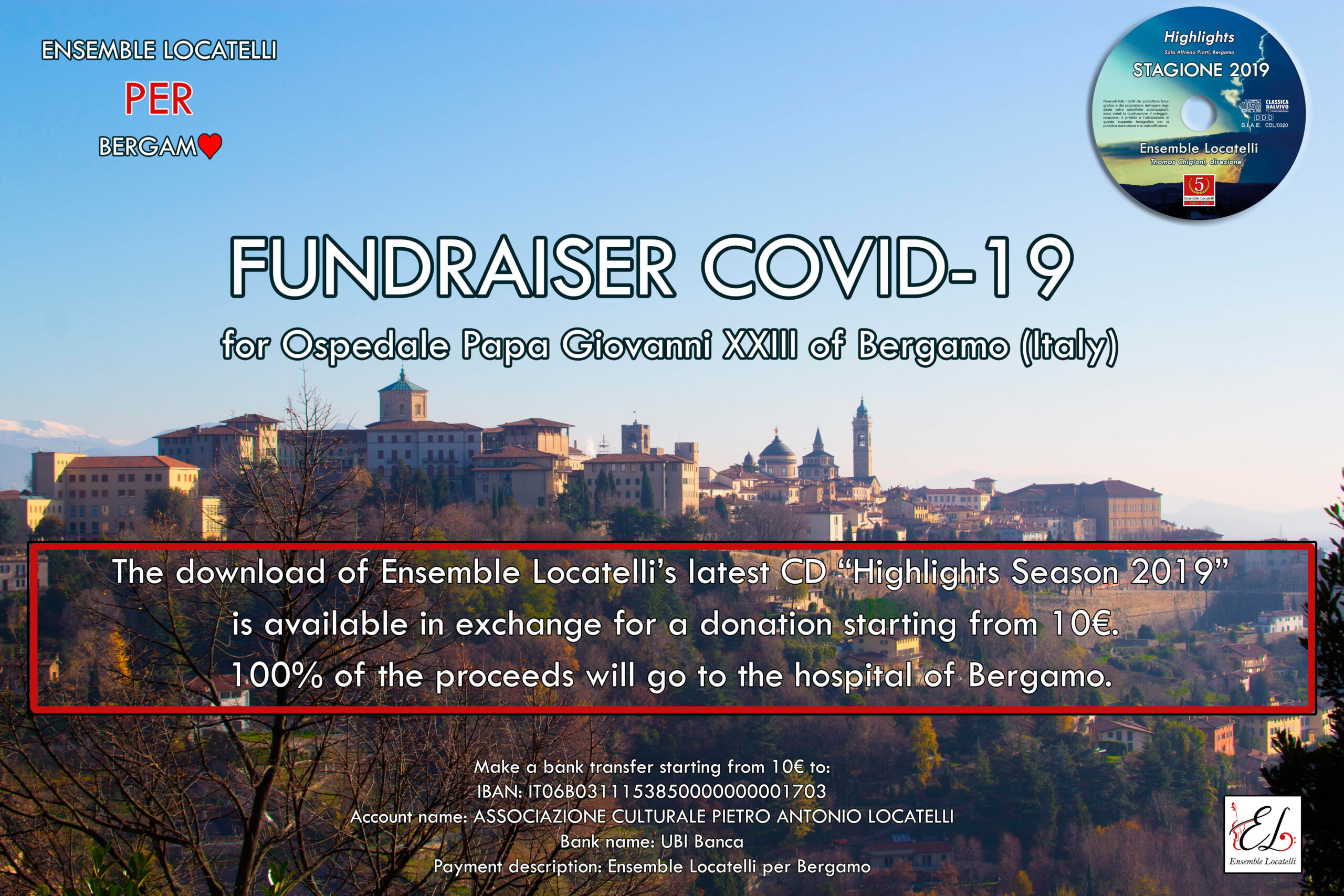 ENGLISH
Dear friends and music enthusiasts,
We Ensemble Locatelli are not only an Italian baroque orchestra from the city of Bergamo, but we truly are a family that for more than five years has been promoting music composed between the XVII and XVIII century within our territory. Today our hometown, in which we grew as people and musicians, is facing one of the hardest times in its history, as it has been so severely struck by COVID-19.
We decided to do our little part with a fundraiser to help the doctors and paramedics of our city, who fight bravely on the frontline, risking their lives to save the others every day.
We recently finished the mastering of our latest CD with the highlights of the 2019 concert season held in Bergamo. Unfortunately, since we all are locked down, we are unable ship them. What we can do, though, is to allow you to download the tracks, in exchange for a small donation starting from 10€. All the proceeds will be allocated to the ASST Papa Giovanni XXIII, the hospital of Bergamo.
We acknowledge it is not much, however it is a gesture that we can do together to help Bergamo overcome these challenging days and be back at its splendour as soon as possible.
Jacopo Natali, president of Associazione Culturale Pietro Antonio Locatelli
Paypal: ensemble.locatelli@gmail.com
IBAN IT06B0311153850000000001703
BIC: BEPOIT21301
SWIFT: BEPOIT21
BANK ADDRESS: Filiale di Osio Sopra Via XXV Aprile, 29, 24040 BG (Italia)
BANK NAME: UBI Banca
Account name: ASSOCIAZIONE CULTURALE PIETRO ANTONIO LOCATELLI
Payment description: Ensemble Locatelli per Bergamo